Esthetic Cosmetic Dentistry
Whether you come to us for the smallest filling or to completely change your smile, we ensure that our work looks as natural as possible. In cases where we are creating a more beautiful smile, we use a very detailed set of tools that analyzes the color and shape of your teeth and how they fit in with your smile.
We can use a set of photographs that show the relationship of your teeth to your lips, eyes and face to carefully mounted models on an articulator that reproduces your jaw movements. With 3D technology this can be done virtually as well. We believe that careful planning of each step of the process is essential to a satisfactory outcome.

This is a wax up of one's teeth. This allows us to test that we have made a smile that will look beautiful and function wonderfully, before we actually make any changes to your mouth.
Invisalign is an excellent alternative to traditional metal braces and we have improved upon many smiles with this technology over the years. With the Invisalign system, we create a set of clear trays that move your teeth over time. Typically faster than traditional braces, they are also comfortable and so discreet they're practically unnoticeable.
Watch this Video to Learn More »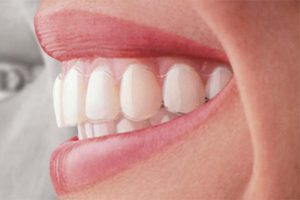 You can barely see it, but this woman is wearing invisalign!